Kikaku America International
Kikaku America International (Kikaku), a pharmaceutical consulting firm specializing in managed care and health strategy, was in search of a management team to oversee projects for a biopharmaceutical client with diverse needs. With more than a decade of experience developing and implementing strategic product plans, Raspberry Communications principal Judy Tonkin did not hesitate to accept the assignment.
The challenge. Develop two seminal publications examining treatment delivery in a managed care environment.
The approach. To assist Kikaku, Raspberry Communications wore multiple hats. From assuming the role of client liaison to acting as managing editor, Raspberry Communications worked diligently to fulfill the clientís vision and meet Kikakuís commitment.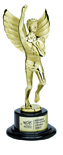 The result. The Ferring Managed Care Trend Reports - two 60-page, free-standing publications which critically examine the clinical and financial challenges affecting patient care.
Chosen by the Association of Marketing and Communication Professionals from a field of over 3000 domestic and international entries, each Trend Report received a 2007 Hermes Creative Gold Award.